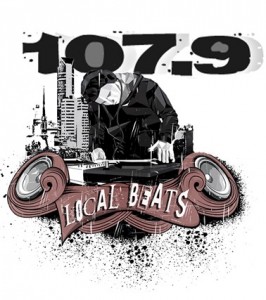 1079 THE BEAT and ENTERTAINMENT ONE are looking for Local Artists and Local Music!!   Do you thing you have got what it takes?   Each week we will post YOUR Music on LOCAL BEATS. 

T

he song with the

Most Votes

of that week will be featured in CLUB BROOKLY FRIDAY NIGHTS! 
Submit your music Now! Good luck  from ENTERTAINMENT ONE and The Beat Of Lexington 1079 THE BEAT
---
The Rules:
1.     Must be 18 years of age or older.
2.     Kentucky residents only.
3.     No purchase necessary.
4.     All music must be submitted to 1079localbeats@gmail.com. Submission must include the artist name, song title, address, email, phone number, a copy of their song in mp3 format and Twitter username.
5.     All songs submitted must be original. 107.9 The Beat reserves the right to exclude songs deemed an infraction of this rule.
6.     All music submitted must be edited for explicit content or it will be rejected.
7.     Artists and their collaborators will retain full rights to all work submitted.
8.     Artists will be notified by email (with no other notification given) and must sign and return an affidavit of eligibility/recording rights/publicity release within 14 days of notification date. The affidavit will state that artist's song is original work and he/she holds all rights to song. Failure to sign and return such affidavit within 14 days or provision of false/inaccurate information therein will result in immediate disqualification. Affidavits subject to verification by The Competition and its agents. Entry constitutes permission to use winner's names, likenesses, biographical information, address (city and state) and voices for future advertising and publicity purposes in any and all media now or hereafter devised, worldwide and in perpetuity, without limitation and without additional compensation, notification or permission, except to the extent prohibited by law. All copyright, trademark or other intellectual property in such advertising shall be owned by 1079 The Beat or its licensors and winning participants hereby disclaim and waive any such rights to such advertising. Affidavits must returned to 1079 The Beat's business address at 401 West Main Street, Suite 301, Lexington, Kentucky 40507.  Affidavits may be mailed ,or delivered in person to our offices, during regular business hours, Monday through Friday – or scanned and emailed (with signature) to localbeats@1079thebeat.com.  Attn: 1079 The Beat – Local Beats
9.     Entry constitutes permission to use winners names, likeness and voices for future publicity and advertising purposes without additional compensation.
10.  Artist acknowledges that all songs entered may be used on the air, and promoted through 107thebeat.com, and 1079 The Beat social media. Entrant agrees to release, indemnify, and hold 1079 The Beat, its sponsors, and judges harmless for liability, damages, or claims for injury or loss to any person or property relating to, in whole or in part, directly or indirectly, participation in LOCAL BEATS, including any intellectual property or copyright infringement claims.
11.  By entering, you agree to be bound by the terms set forth above.