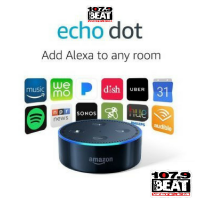 Well Santa's Head Elf JoJo and 1079 The Beat have teamed up once again for the 12 Days Of Christmas!
This year…you can pick up the latest in home electronics with the Amazon Echo Dot…….The devices connect to the voice-controlled intelligent personal assistant service Alexa!
Fill out the form below listen for your name to be called between 2pm and 6pm Monday-Friday with Jay Alexander to win!!
Merry Christmas from The Beat of Lexington……1079 The Beat