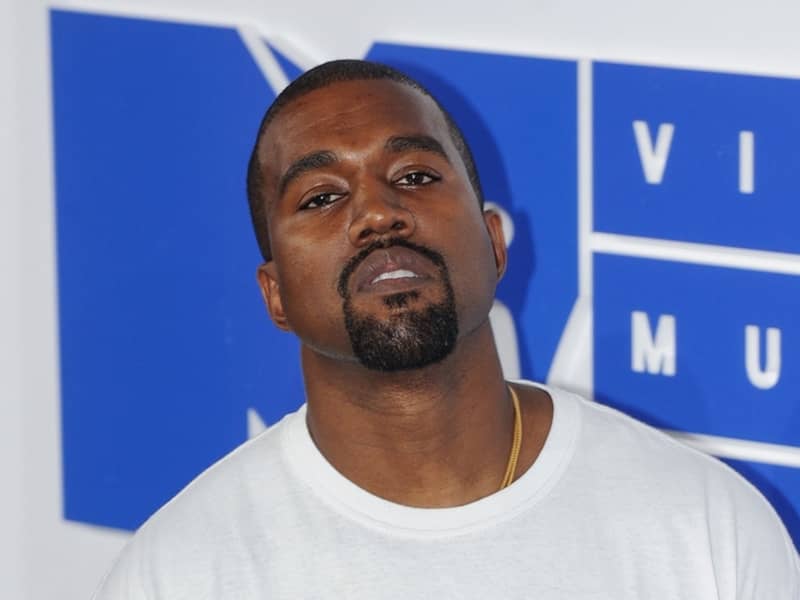 Kanye West has taken jabs at Pete Davidson, the SNL comedian who is dating Kanye's estranged wife Kim Kardashian.
On a new song Ye did with The Game called "Eazy," which came out on Saturday (January 15th) at midnight, Kanye rapped, "God saved me from that crash/Just so I can beat Pete Davidson's a** (Who?)."
Kanye is referring to the car accident he was involved in years ago, which he spoke about on his debut single, "Through the Wire."
He also spoke on his divorce with Kim, saying on the track, "N***a, we havin' the best divorce ever/If we go to court, we'll go to court together/Matter of fact, pick up your sis, we'll go to Kourt's together/Noncustodial dad, I bought the house next door/What you think the point of really bein' rich for?"
And on actress Julia Fox, whom Kanye is currently dating, he said, "And my new b*tch bad/I know Illuminati mad."
Kanye and The Game were also criticized by PETA for the artwork used for their new single "Eazy," which appears to be a skinned monkey. PETA President Ingrid Newkirk told Billboard, "The photo is reminiscent of the monkeys PETA has found, sometimes heads, sometimes hands, sometimes the whole body, in meat markets around the world. It makes it clear that when you remove the fur you can't miss that there's a person in there, that they are fellow primates, and do not belong to us to abuse for any purpose, not in laboratories, roadside zoos, movies, or meat markets."
KANYE WEST SAYS HE WASN'T GIVEN THE ADDRESS TO HIS DAUGHTER CHICAGO'S BIRTHDAY PARTY
Kanye went on Instagram Live over the weekend and revealed that he wasn't given the address to this daughter Chicago's 4th birthday party.
He explained, "Wishing my daughter a public happy birthday. I wasn't allowed to know where her party was. There's nothing legal. They're saying these are the kind of games that are being played. This the kind of thing that has really affected my health for the longest. I'm just not playing, I'm taking control of my narrative this year. I'm being the father, the best father, the Ye version of a father and I'm not finna let this happen. We gon' be in real time with this right here. Chicago, happy birthday. I love you. I'm just putting this online 'cause I need y'all support. I done called Kim, text the nannies. I got on the phone with Tristan, he asked Khloe. Won't nobody give me the address to my daughter's birthday party, right now. That's gonna imprint in her mind that I wasn't there for her."

Kanye continued, "I was supposed to be in Miami recording my album. My whole schedule is based around me being able to take my kids to school, me being there for them, making sure that I'm being in they lives. That's the whole point of having money. They take so many fathers just throughout America. They been taking the fathers out the homes purposely. So, I'm speaking up, I'm using my voice to say, this ain't gon' keep happening. This narrative not finna happen. It's a lot of people that's in a position they ain't got no voice when people be playing games like this, baby mama's be playing games, the grandma be playing games like this. It's like, as y'all know, they ain't finna play like that with me."
Ye later revealed that Travis Scott gave him the address to the event, allowing him to attend his daughter's birthday celebration.
Kanye said, "Yo, I'm so happy right now, I just came from Chi's party. And I just gotta shout out to Travis Scott for sending me the address and the time and making sure I was able to spend the birthday memory with my daughter, to be with the rest of the family. I just saw everybody. It was Kris and Corey. Kylie let me in right when I got to the spot, 'cause security stopped me once again when I got there. And, you know, it's just a matter of having a conversation, open dialog and everyone just had a great time. I'm just really happy I could be there for my children."
AMBER ROSE TWEET ABOUT KANYE AND THE KARDASHIANS RESURFACES
On another note, a tweet that Amber Rose posted in 2015 about Kanye West and the Kardashians has resurfaced online.
At the time, she wrote, "@kanyewest I'll leave that up to the Kartrashians to humiliate u when they're done with u."
Amber addressed the tweet on her Instagram Story on Sunday (January 16th), writing, "Man f**k that old a** tweet. I never got an apology for his '30 showers' comment but f**k it. I started my Slutwalk and helped millions of women around the world stand up for themselves against slut shaming so something amazing came out of it."
She added, "Kim nor her sisters deserved that tweet and y'all shouldn't co-sign it either. Sh*t was old and immature of me to involve the KarDASHians in the mess HE made. Moving forward learn from my mistakes. We all have kids and family's life is hard enough right now for a lot of ppl. I just want to spread love and positivity."
Amber's tweet was referring to the radio interview Kanye did back in 2015 when he said he had to take "30 showers" to get with Kim Kardashian after dating Amber Rose.